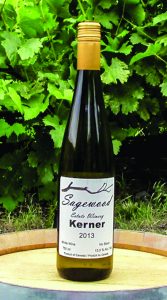 Kerner 2013
Bronze Medal.
A cross of Riesling and Trollinger, Kerner is an aromatic white grape variety.
Made in a dry style with aromas of grapefruit, peach and tropical mango. Flavours of green apple and white stone fruits.
Pairs well with pasta salads, shellfish and spicy dishes.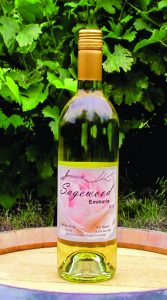 Emmarie 2015
Bronze Medal.
Dulce de leche bouquet. Palate of citrus, meyer lemon, damson plum.
Pairs with pavlova, cheese platter, chicken, curries, seafood, spot prawns, creamy mushroom risotto.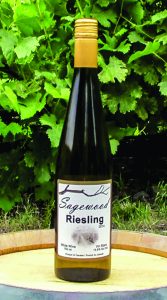 Riesling 2014
Bronze Medal.
Alluring floral bouquet filled with peach, honeysuckle and apricot. Flavours of citrus, apricot, pineapple, honey, minerality with crisp acidity.
Our 2014 Riesling is a flexible wine that compliments seafood ceviche, BBQ shrimp, fresh crab, chicken.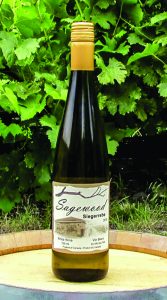 Siegerrebe 2015
Tropical, rose, lychee bouquet.
Intense flavours of lychee, rose, melon.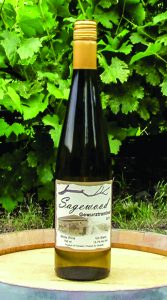 Gewurztraminer 2015
Naturally fermented by our vineyard yeasts to produce a unique Gewurztraminer. Buttery caramelized almond quince bouquet. Flavours of chocolate covered orange rind, papaya, guava and mango.
Pairs with curry, roast chicken, glazed ham, turkey, and roasted duck breast.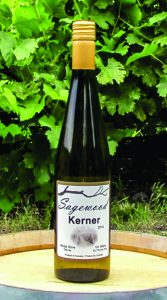 Kerner 2014
Silver Medal.
Pleasant bouquet of apple and pear. Palate of apple, pear, and citrus with a hint of stone fruit.
Pairs well with onion tart, Thai green curry, grilled garlic chicken with figs and tahini sauce.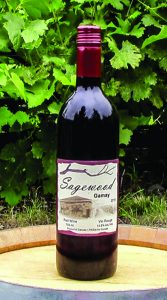 Gamay 2015
Bronze Medal.
Crisp clean stewed prune bouquet. Refreshing flavours of pear and black currant.
Pairs with crown rib roast, game meat, ribs.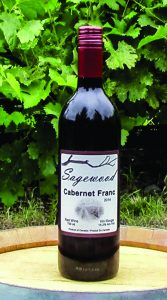 Cabernet Franc 2014
Gold Medal.
Deep ruby with aromas of raspberry, currant and a hint of licorice.
Flavours of sweet raspberry with a dark chocolate and tobacco finish.
Pairs well with pasta, lamb, BBQ, prime rib, roast duck and game meats.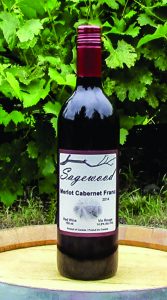 Merlot / Cabernet Franc 2014
Gold and Bronze Medal.
Divine magenta colour with earthy, olive, mushroom and hints of cranberry aromas. Palate is smooth, well rounded earthy with a hint of cranberry.
Pairs well with venison, beef bourguignon.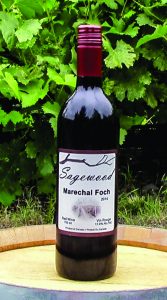 Marechal Foch 2014
Bronze Medal.
Aged in American and French Oak and stainless steel tanks. An intense dark coloured wine with very robust flavours.
Pairs well with red meats, prime rib, bar-b-que.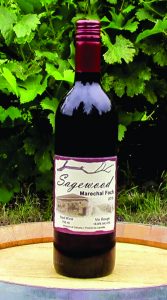 Marechal Foch 2015
Bronze Medal.
Similar to our 2013 Foch, so dark I call it inky. Cocoa, blackberry bouquet. Well rounded flavours of plum, cherry and chocolate. Lightly oaked.
Pairs with red meats, game meats, blue cheese, garganzola pasta sauce.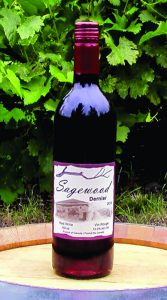 Dernier 2015
Bronze Medal.
Our late harvest desert wine with a currant bouquet. Flavours of apricot and cinnamon.
Similar characteristics to a port our Dernier is excellent after dinner.

Kayla 2014 release SOLD OUT
Made from our Pinot Noir grapes to honour our dog Kayla our loyal companion and guardian of the vines, Traditionally bottle fermented with fine effervescent bubbles made in a Brut style.