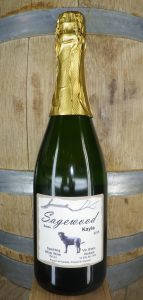 Kayla traditional sparkling 2016
Gold Medals, Best of Catagory Award.  Made to honour our dog Kayla our loyal companion and guardian of the vines, Traditionally bottle fermented with fine effervescent bubbles made in a Brut style.
Next release December 2018, contact winery for details.

Concord sparkling 2017
Lightly effervescent with classic concord grape flavours.
$17.30 plus tax and bottle deposit.

Essenzia Rose' 2017
A refreshing blend of Gewurztraminer, Gamay and Pinot Noir.
$17.30 plus tax and bottle deposit.

Pinot Noir 2016
Bouquet of vanilla, oak and tobacco. Earthy palate with a hint of cherry, spice, anise, black pepper.
$19.04 plus tax and bottle deposit.

Marechal Foch 2017
Bouquet of fig, quince, caramel, tobacco, coffee.
Palate of coffee, chocolate, blackberry, mulberry.
$19.91 plus tax and bottle deposit.

Dernier red late harvest 2016
Bronze Medal.
Our late harvest desert wine with a currant bouquet. Flavours of red currant and allspice.
Similar characteristics to a port our Dernier is excellent after dinner.
$22.52 plus tax and bottle deposit.


Riesling 2017
Silver Medal
Sold Out
Gewurztraminer 2017
Sold Out

Ortega 2017
Silver Medal
Sold Out

Kerner 2017
Bronze Medal.
Sold Out

Emmarie Rose' 2017
Bronze Medal
Sold Out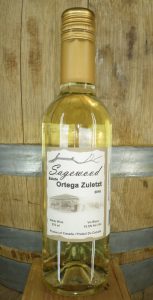 Ortega Zuletzt late harvest 2016
Gold Medal. 
SOLD OUT